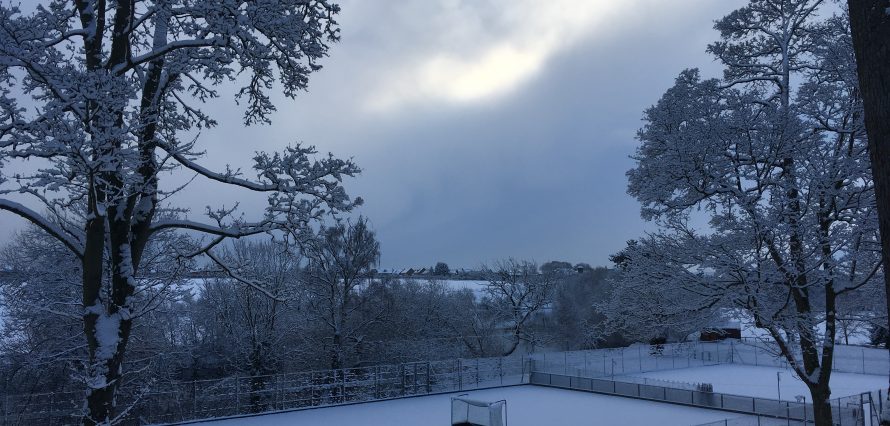 Teesside High School – Snow update – Tuesday 27 February
Tuesday 27 February 2018 | By Samantha Hockney
Weather update; Tuesday 27 February, 6.30am
School will be open today (Tuesday 27 February) however due to road conditions there will be no bus service.
If you are able to safely travel, pupils should attend School. Please do take care with journeys. We are currently clearing the site and approach.
Weather update, 7.30am
School site is now clear and School is open. Our grounds are looking just gorgeous with plenty of fresh snow. Please wrap up warm and bring wellington boots for outdoor play.
Weather update; 9.20am
The English Department's ESU competition is running as usual, we are liaising with competition organisers should things change – further updates will be posted as and when required.
Please be aware that School transport is NOT running today – buses home will not run due to the tricky road conditions/forecast weather conditions.
All sporting fixtures – both home and away – have been cancelled due to the weather.
Weather update; 3.00pm
Due to weather forecast for tomorrow and the remainder of the week, we will continue to share snow updates, transport service news and fixture cancellations via our Facebook page, website and Twitter feed. Facebook is the easiest way to find out about our plans during inclement weather; it is often updated before 6.00am each morning. Whilst the snow has eased for today, we are expecting further disruption this week. Please do stay updated and travel with care on the School site.
Weather update; 3.45pm
TRAFFIC UPDATE: YARM ROAD
We have just received a report of Yarm Road being closed in both directions near to Preston Park due to a road accident. We appreciate this may make your journey to School a little difficult this evening. Please be reassured that all children will be supervised in Tea Club until you arrive at School for collection. Take care when travelling and do not hesitate to get in touch if you have any queries or concerns.