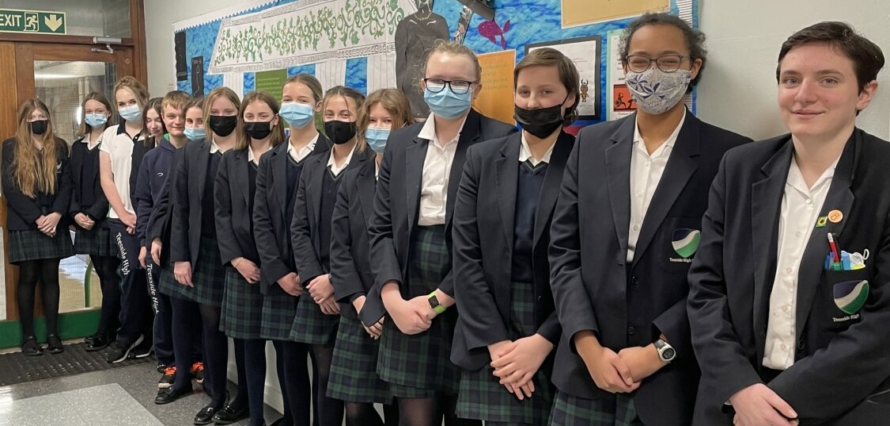 Classical Education – Greek enrichment at Teesside High School
Thursday 10 February 2022 | By Megan Connor
For thousands of years, a Classical Education was something every western European aspired to. Ancient Greek is a popular choice this term for our enrichment activities.
A niche subject nowadays, it is studied by only 900 people nationally at GCSE, compared to Geography for example where there are around 200,000 candidates a year. Numbers opting for Greek, however, continue to rise in places where it is offered, showing just how popular this subject can be, and at THS, all our candidates for this difficult subject have achieved A* grades when they have sat the GCSE examination.
Charlotte, our Year 11 helper, took her GCSE a year early last summer, achieving 100% in one paper and 97% in another.
Enrichment in Ancient Greek is an ideal way to offer stretch and challenge to a group of like-minded pupils from Year 9 upwards; learning vertically like this, with pupils grouped by ability and interest rather than age, allows them to make new friends and foster a sense of community across the year groups. The Ancient Greek language is alive and well too in the anatomical and medical terms which we are studying; giving a flying start for all our future medics.
Enrichment pupils will be able to read texts that are 2,500 years old, but still have power and resonance today. For example the works of Herodotus, called the Father of History, are more like the Horrible Histories! We can read in his books about how the Egyptians mummified crocodiles, to how to keep mosquitoes away, as well as amazing battle strategies, ancient legends and scandalous rumours.
Ancient Greek is still used as the language of Science: so far this term we have unravelled the meaning of dinosaur names and will be investigating the use of Greek in everything from Music to Physics.
We use their language to explore how the Greeks pushed the boundaries of discovery: from pin-hole cameras to steam-powered boats. Their temples were not the dreamy ruins they are now, but full of cutting-edge technology; from automatic doors, to vending machines, to the first "robot" servants. Our understanding of many subjects is built on the foundations of their knowledge.
Miss J Bird, Head of THS Sixth Form