Cross Country triumph at Teesside High School
Wednesday 16 February 2022 | By Megan Connor
Wednesday 1 December saw the return of the annual District Cross Country, and we have been supporting our students at each and every stage of the competition since!
In usual style the first round was cold, wet and very muddy. 46 pupils competed for Teesside High School in six categories, over various distances up to 5km. A lot of our students showed grit and determination, particularly those who had made the team through sheer hard work and commitment. 
Stand out performances came from Kiyan, finishing 6th despite being sent the wrong way on the first lap! Our only Sixth Form runner was Liam who helped all afternoon, warming up his peers and then leading by example, finishing 4th in his Senior Boys' category. Oliver in Year 9 also finished a very respectable 15th place in Junior Boys, a race with well over 90 competitors.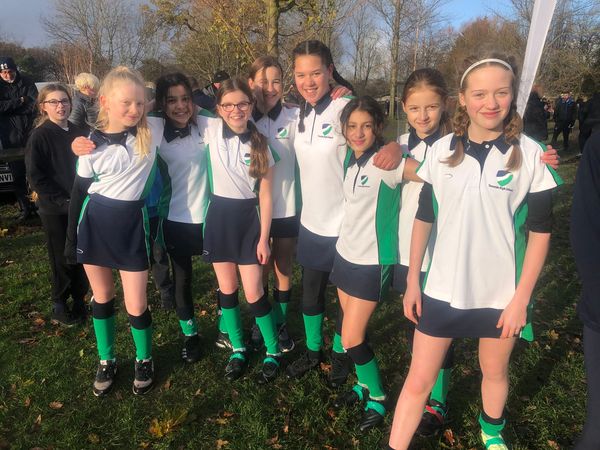 Onto the girls and our best result of the day was from Martha in Year 7, who showed outstanding resilience and gave absolutely everything she had to finish an amazing second place. In the Intermediate Girls' race, all THS pupils gave good personal performances with Isobel, Megan and Layla all securing top 12 finishes. The following pupils then qualified for the County Round; Liam, Kiyan, Isobel, Megan, Layla and Martha. 
At this next stage, three THS runners represented the Stockton district; Martha, Layla and Kiyan were competing against runners from Hartlepool, Middlesbrough and Redcar and Cleveland districts. All three prepared well, showed great team spirit throughout the afternoon and demonstrated outstanding determination during their races. Martha and Kiyan both qualified for the next round as they finished 3rd and 6th in their respective races. Unfortunately, Layla narrowly missed out on qualification after finishing 18th in her race. 
We were then able to support our students in the Inter-County Competition. This took place on Saturday 5 February, where Kiyan and Martha both competed very successfully. Martha completed a 2200m course in strong headwind; she was the first girl home for the Cleveland district finishing 7th overall, with a fantastic time of 7 minutes 38 seconds. Kiyan ran 5800m in a blistering 19 minutes 47 seconds, another outstanding time, placing 4th for Cleveland.
A huge well done to all students who have took part in the different stages of these trials. We now look forward to supporting Kiyan later this year as he he competes once again at the English Schools Competition.