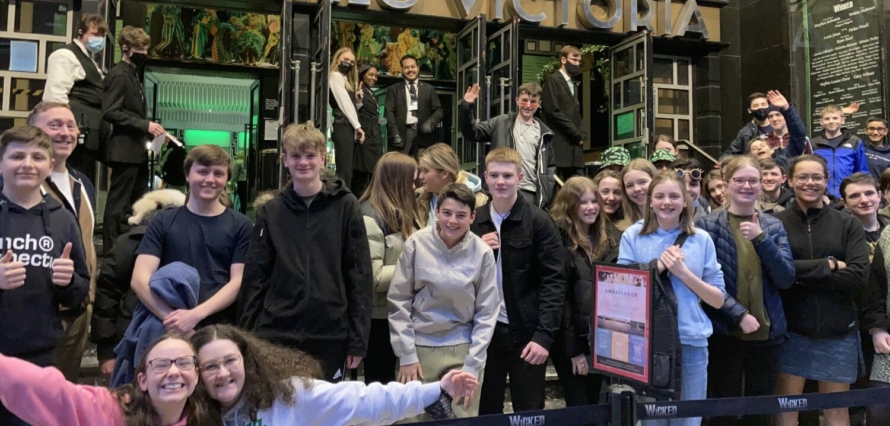 London visit 2022
Wednesday 18 May 2022 | By Megan Connor
One of the joys of this academic year has been the return back to 'normal', therefore it was with great excitement that we headed to London with 45 of our Year 9 and 10 students.
Even an early morning start couldn't dampen their spirits for what was to be a jam-packed 24 hours in the 'Big Smoke'.
Our first destination was Camden Locks and Market, students were given some free time to explore this truly unique place. Vintage garments were purchased, street food was consumed and, thankfully, the sun shone.
Next stop was dinner on The Strand, followed by a short walk to the Apollo Victoria Theatre to watch Wicked, and what a show it was! This longstanding West End show is popular for good reason! The set, songs and story are truly captivating. A short coach ride to our hotel, involving a sing-song of our favourite numbers from the show, proved a perfect end to our first day.
Day two began with a very speedy guided tour by Mr Atkinson, navigating us through the city to our destination: The Globe Theatre. Here we were taken on a tour by one of the Royal Shakespeare Company's resident actors who then completed a workshop with our students on their GCSE set text, Macbeth. The workshop enabled our students to engage with the text as a performance piece and also think carefully about Shakespeare's use of language.
Our final destination was Covent Garden, a chance for some to 'hit the shops' and others to soak up the wonderful atmosphere and watch the street performers.
We arrived home with tired feet but great memories. Our students were, as always, a pleasure to spend time with and excellent ambassadors for our school.
Mrs Reid