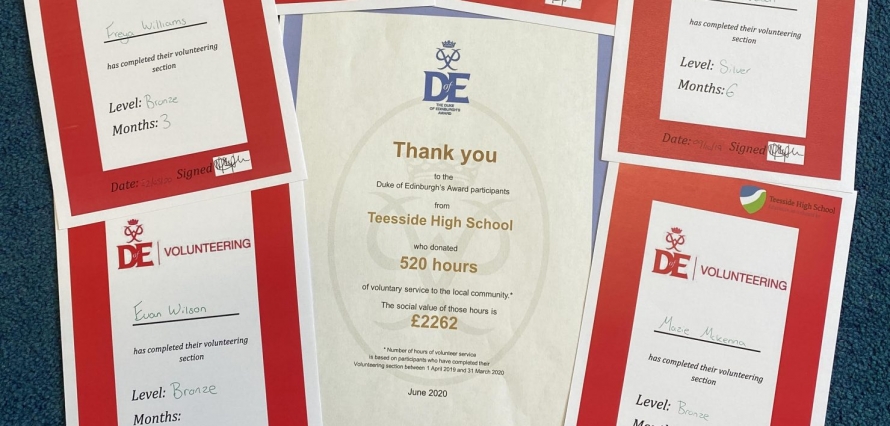 Teesside High School students demonstrate positive social value through Duke of Edinburgh Award
Monday 15 June 2020 | By Samantha Hockney
We were thrilled to receive a certificate from the Duke of Edinburgh Award last week to update us on our pupils' volunteering efforts.
Over the past year, through completing the volunteering section of the award, Teesside High School students have amassed over 520 hours of volunteering in their local communities.
This equates to £2262.00 of social value.
Our pupils have completed a variety of activities in order to fulfil this element of the Duke of Edinburgh award. Recently, Isabelle Blackburn (Year 10), Olivia Mulcrone (Year 10) and Laura Havis (Year 13) finished their sections by volunteering as marshals at local park runs.
Mazie McKenna (Year 10) helped coach younger THS pupils in netball, Euan Wilson (Year 10) worked at Oxfam's charity shop for three months and Grace Sanderson (Year 11) gave up her time to support a local Brownie group.
Further to this, both Freya Williams (Year 10) and Millie Poppitt (Year 11) were determined not to let Covid-19 get in the way of their efforts, and used DofE With A Difference to complete their activities. Freya tutored a group of Year 7 students on how to play the cello and Millie tutored her younger sister in mathematics.
We are really proud of what our DofE community has achieved this year and look forward to seeing what more of our students have to offer in the months and years to come.
Miss Hopkins