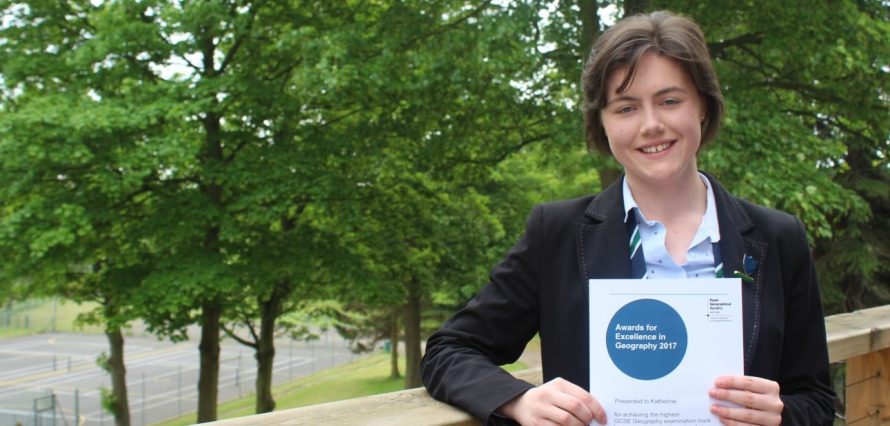 Teesside High School student awarded national Geography prize
Thursday 24 May 2018 | By Samantha Hockney
A Teesside High School student has been recognised after achieving one of the highest marks in GCSE Geography in the country.
Katherine, now in Year 12 at Teesside High School Sixth Form, has been awarded a Royal Geographical Society (RGS) Excellence award, which celebrates the hard work and success of students in national Geography examinations.  She is one of just 20 students recognised for achieving the highest marks nationally in GCSE Geography in 2017.
Katherine achieved 11 A*s and 1 A in her GCSE examinations last year. She said: "The hard work in the run up to my GCSEs truly paid off, and put me in great stead as I chose to study A-levels at THS Sixth Form.
"I am shocked to hear my GCSE Geography result was amongst the best in the country but absolutely thrilled to receive this accolade from the RGS."
Georgia White, Head of Geography at Teesside High School, said: "I am so very proud of Katherine for receiving such a prestigious award. Katherine's diligent and meticulous approach to her Geography studies alongside her hard work and determination has allowed her to follow in the footsteps of other outstanding Geographers at Teesside High School who have also been recognised at this national level. She is an asset to both the Department and the School."

Kirsty Mackenzie, Head at Teesside High School, said: "Our record of high achievement at GCSE is outstanding, and Katherine is a shining example of the excellent academic talent shown by so many at Teesside High.

"Katherine joined us in Year 7 and excels in all facets of School life; she is a true leader, whether that is in the classroom, on a Duke of Edinburgh expedition, on the sports pitch or through her role as School House Captain.

"Katherine is a mature, resilient, well-rounded student and we could not be more proud of her achievements."