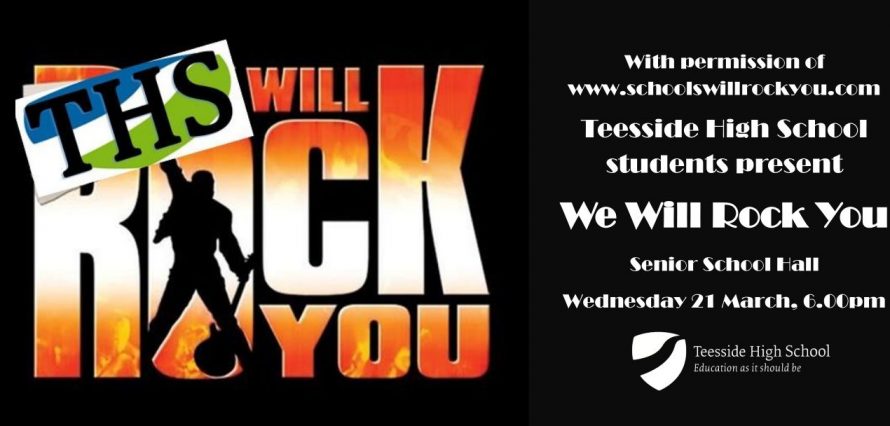 Teesside High School students present… We Will Rock You
Monday 05 March 2018 | By Samantha Hockney
With permission of www.schoolswillrockyou.com, Teesside High School students present We Will Rock You.  A fantastic production of Ben Elton's classic which will be supported by pupils from Junction Farm Primary School.
Tickets are now available for the production, which will be held in the Senior School Hall on Tuesday 20 March and Wednesday 21 March from 6.00pm.
We Will Rock You is a musical smash which was seen by more than 6.5 million people during its twelve year West End stint. The jukebox classic, which features some of Queen's most loved songs, is set in the future, in a place that was once called Earth…
"Everywhere, the kids watch the same movies, wear the same fashions and think the same thoughts. It's a safe, happy, Ga Ga world. Unless you're a rebel. Unless you want to Rock. On iPlanet all the musical instruments are banned. The Company Computers generate tunes and everybody downloads them. Nothing is left to chance, hits are scheduled years in advance.
"But Resistance is growing. Underneath the gleaming cities, down in the lower depths live the Bohemians. Rebels who believe that there was once a Golden Age when the kids formed their own bands and write their own songs. They call that time, The Rhapsody.
"Legend persists that somewhere on iPlanet instruments still exist. Somewhere, the mighty axe of a great and hairy guitar god lies buried deep in rock. The Bohemians need a hero to find this axe and draw it from stone. Is the one who calls himself Galileo that man?
"But the Ga Ga Cops are also looking for Galileo and if they get him first they will surely drag him before the Killer Queen and consign him to Oblivion across the Seven Seas of Rhye."

Starring

Harry Gates – Galileo
Hannah Foster – Scaramouche
Olivia Breckon – Killer Queen
Aiden Losey – Khashoggi
Dylan Richardson – Britney Spears
Rosie Foster – Meat Loaf
Charley Johnson – Pop
Charlie Loveridge – Teacher
Grace Sanderson – Paul McCartney/GaGa Girl
Lydia Wilson – Charlotte Church/GaGa Girl
Sophie Allen – Madonna/GaGa Girl
Alice Christon – Bob the Builder/Police
Grace Hutcheson – Christma/GaGa Girl/Killer Queen Assistant
Shanice Dube – Alanis/GaGa Girl/Killer Queen Assistant
Megan Kelsey-Robey – Dancer
Becky Poppitt – Dancer
Sophie Dickinson – Dancer
Our students most look forward to seeing you there.
Tickets available from the School's main reception priced at £5 adults, £3 child or £15 for a family ticket (2 adults, 2 children).