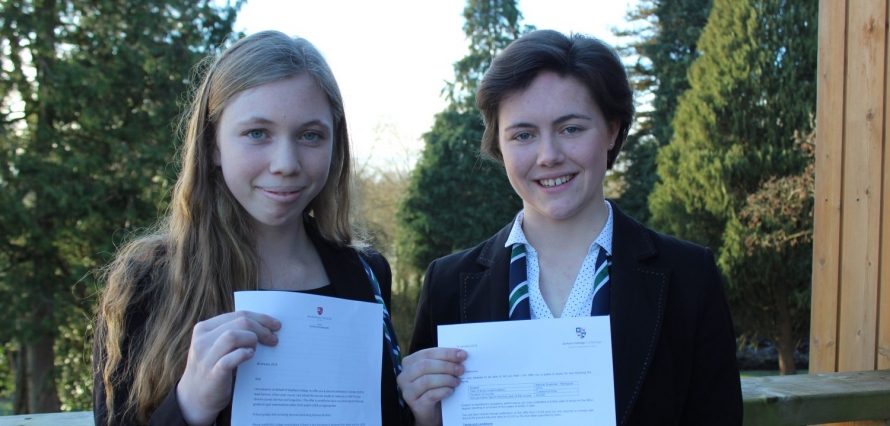 Teesside High School students receive Oxbridge offers
Friday 18 January 2019 | By Samantha Hockney
Two Teesside High School students have received prestigious offers to study at Oxford and Cambridge universities.
Sophie and Katherine in Year 13 have been successful in achieving offers to study German and Natural Sciences respectively.
Sophie's success runs in the family. She is following in her sister's footsteps from Teesside High to Oxford University; Sarah is currently reading Classics at Merton College.
Katherine has been selected to study at Girton College, which was established in 1869 as the first women's college at Cambridge.
Both girls joined Teesside High School in Year 7 and credit much of their success to the high academic standards within the school. In 2017, Katherine was awarded a Royal Society prize for achieving one of the highest marks in GCSE Geography in the country.
Katherine said: "I have always loved learning about Science and thoroughly enjoy the challenge of Biology, Chemistry and Mathematics at A-level. Having the opportunity now to continue my passion for Science at Cambridge is a huge honour. I am so grateful to my teachers, whose enthusiasm for their subjects continues to be an inspiration."

Sophie said: "The rigorous admissions process began many months ago, but following my personal statement, two examined essays and three challenging interviews, I am delighted to have received an offer to study at Oxford."
Both Sophie and Katherine secured straight A*/A grades in their GCSE examinations. Outside of the classroom, Sophie mentors younger languages students and recently travelled to Germany to complete a work shadowing opportunity with the Goethe Institute.
Katherine also excels in all facets of school life, completing the Duke of Edinburgh award, playing sport to the highest level and undertaking the role of House Captain.
Jane Bird, Head of Sixth Form, said: "Sophie and Katherine have demonstrated outstanding hard work, commitment and diligence in their studies and are excellent ambassadors to those hoping to achieve the greatest academic success at Teesside High.

"Both girls have worked tirelessly over the last seven years to set themselves apart from the hundreds of candidates wishing to study at Oxford or Cambridge each year. Their achievement is all the more staggering when you consider there are just a small number of places available on these courses at their chosen colleges.

"Earlier this year, Teesside High School Sixth Form was named the 13th best small independent sixth form in the UK and I am delighted Sophie and Katherine have both benefitted from the high level of individual support we offer during their time here.

"Our track record of Oxbridge success continues and our entire school family is very proud."