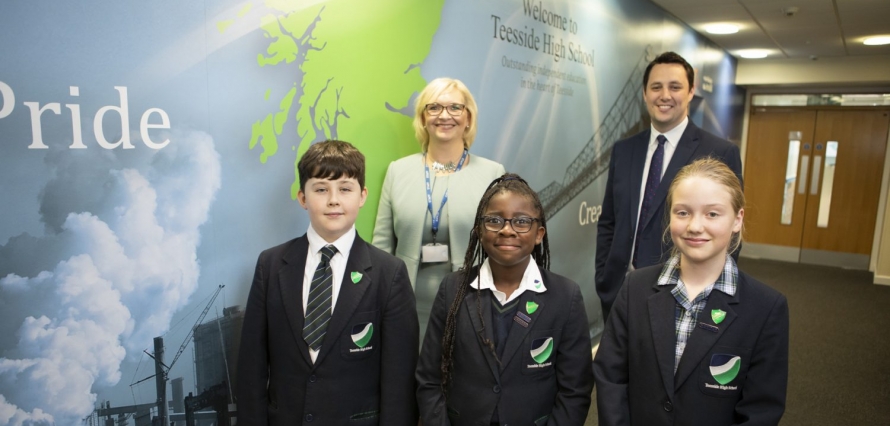 Region's heritage celebrated as Teesside High School unveils 'welcome wall'
Thursday 24 September 2020 | By Samantha Hockney
A 'welcome wall' inspired by Teesside's rich history was this week unveiled at Teesside High School.
Guest of honour and Mayor of the Tees Valley Ben Houchen was joined by pupils, staff and governors in marking the official unveiling of the school's new 46ft display at a socially-distanced gathering.
The 'welcome wall' celebrates Teesside's proud industrial history and features photographs of the area's former steelworks as well as landmarks from across the region's boroughs, including Middlesbrough's Transporter Bridge, Yarm Viaduct, Guisborough Priory, Roseberry Topping and Stockton's Infinity Bridge.
Kirsty Mackenzie, Head, said: "Despite the challenges of 2020, there is no better time for us to build on the positivity and momentum this region has been harnessing in the last few years and share the results of our new Teesside-themed welcome wall.

"Teesside High School has been at the heart of independent education in this region for fifty years. We are passionate about the success of our local communities and extremely proud to draw upon Teesside's rich history in a display which I hope will bring pride to pupils, staff and visitors alike.

"The welcome wall very much aims to inspire Teesside's future generation, drawing upon the characteristics and qualities so often displayed on our doorstep; pride, creativity and innovation.

"It has been a pleasure to mark the start of a busy autumn term with the unveiling ceremony and we are very grateful to Mr Houchen for his support."
Mayor Houchen said: "I was thrilled to be able to unveil the new 'welcome wall' at Teesside High and I'm pleased a project that celebrates our region's rich industrial heritage in such a prominent location within the school was able to be completed, despite the challenges of recent months.
"Teesside built the world and every Teessider is rightly proud of our industrial heritage, but it's not just our past we need to be proud of. Today our region is at the forefront of a clean energy revolution, our engineers are developing the technology to capture carbon dioxide on an industrial scale and scientists right here are creating the science and processors needed to recycle materials that previously would have seemed impossible to reuse.
"These innovations are key to my plan for jobs, and I am sure in years to come students from Teesside High will power our economy working as engineers and scientists across the region."
Prospective families can enjoy Covid-secure tours of Teesside High School at the school's upcoming Open Day on Saturday 26 September. Register your interest here.