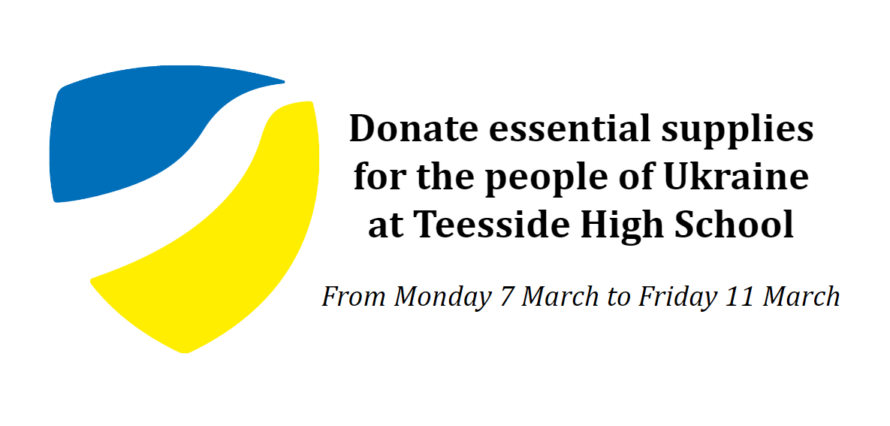 *NOW CLOSED* Ukraine appeal – donate items at Teesside High School
Thursday 03 March 2022 | By Samantha Hockney
Due to an overwhelming level of donations, and the central hub no longer accepting supplies, this appeal and our donation drop has now closed.
We have spent some time this week exploring ways we as a school community can assist with supporting the people of Ukraine. As you will have seen, many organisations and charities have organised collection points where donations of essential supplies can be made to help anyone displaced by the war.
From Monday 7 March, Teesside High School will act as a hub to collect these crucial donations and supplies.
We will be working in partnership with the team at Hogg Global Logistics, a Hartlepool firm and business link of the school, which is helping to organise an aid mission to deliver donations to Ukraine in the coming weeks.
At this time, the Ukrainian Embassy is appealing for the below as a high priority:
• Blankets
• Duvets
• Nappies
• Wipes
• Sanitary products
• Paracetamol
• Calpol
• Basic first aid equipment – bandages, plasters, sterile wipes, eye wash etc.
If you are able to support our collection in any way, perhaps by adding an item or two to your shopping list this weekend, we would be so grateful. Donations can be brought to Main Reception from Monday 7 March. The donation drop-off will close at 9.00am on Friday 11 March in order for us to deliver the items in time.
Please note, any medical items such as paracetamol or Calpol must be handed over securely to our school office team.
Thank you in advance for your generosity. If you have any queries, please do not hesitate to contact Miss Hockney via shockney@teessidehigh.co.uk