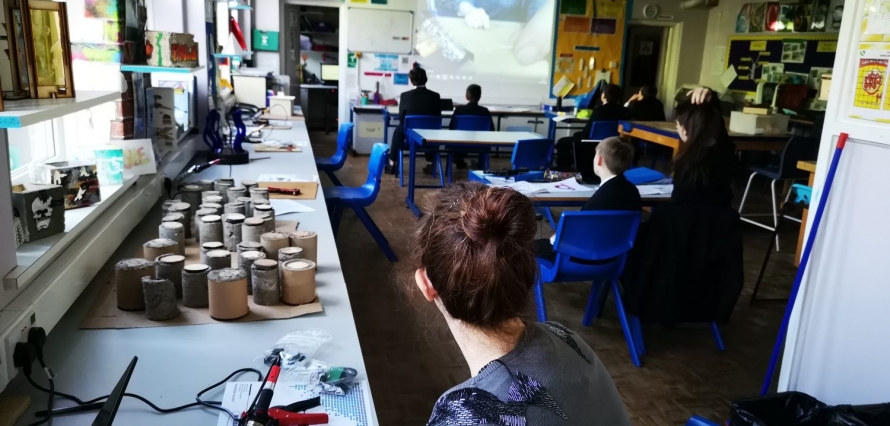 Hybrid teaching at Teesside High School
Wednesday 04 November 2020 | By Samantha Hockney
As we return to school following the half term break and reflect on the situation we find ourselves in, it is with great pride that we continue to provide an excellent standard of education to all Teesside High School pupils, despite the ongoing challenges presented by Covid-19.
Our priorities are unchanged; we aim to provide a safe environment for all of our school community to work and learn within, and to continue to offer an outstanding teaching and learning experience for all pupils; whether that be in our classroom spaces or from home, where a family may be required to isolate.
This term we have introduced a proactive hybrid teaching approach whereby our teaching staff can seamlessly combine face-to-face and online teaching into one cohesive experience, delivered at the touch of a button. 
Hybrid teaching; how does it work?
We have invested significantly in the technology needed to successfully deliver a hybrid teaching model.  Whether in front of a teacher in school or streaming lessons virtually from home, we follow a 'typical' school day and students either physically attend (school) or virtually dial-in (home) to each lesson as it occurs on their timetable.  Every school department has developed purposeful online Google Classroom spaces and staff have worked incredibly hard to replicate a standard classroom environment when teaching remotely. 
We encourage live learning through Google Meet.  We feel this important face-to-face interaction between teachers and pupils is invaluable and allows for purposeful questioning, eliciting and conducive discussions.  Recreating aspects of traditional teaching also allows our staff to incorporate creativity whilst nurturing, challenging and supporting.  Students are given clear instructions through the live stream facility and have shown excellent independence when adopting this new way of working. 
Our pupils make great progress, even at a distance.  All of our teachers provide effective and clear explanations to ensure that the pace of learning is not stalled during time out of school.  Importantly, teachers are able to give regular, rapid and effective feedback so that students are aware of the progress that they are making and how to improve their work further.  We encourage colleagues to record their lessons, allowing students to access their learning freely in the context of limited or shared device access.
Following the first national lockdown earlier this year, our pupils told us that they highly valued the opportunity to see and speak to their teachers and classmates through Google Meet.  It is vital that our hybrid teaching model allows for this peer-to-peer interaction and fosters a sense of collaboration, just as you would find in a typical classroom.  We do this by using applications that allow for video recording, interactive whiteboard through Jamboard, instant quizzes through the rubric facility or other applications such as Quizlet.  We also encourage effective questioning and discussion through breakout rooms, polls and Q&A opportunities, too.
The pastoral support our school is renowned for is delivered remotely, alongside academic lessons.  We continue to offer weekly virtual assemblies that hone in on the important aspects of day-to-day school life, including rewarding top merit earners, exploring themes of the week such as the recent Black History Month, and launching new House competitions, such as this term's House Photography.  This year's annual contest will focus on 'Beautiful Teesside', and we are encouraging pupils and families to get out and about in the great outdoors and share photographs of their favourite local landmarks over the next four weeks. 
Of course, delivering a hybrid model is not easy.  For those subjects which incorporate significant elements of practical work in the classroom, such as Science, Music and Technology, we have had to consider exciting adaptations to schemes of work and reasonable adjustments to teaching practices.  In Design Technology, this has meant either streaming live or recording teacher demonstrations to pupils, for example, Year 8 pupils learning about soldering just last week enjoyed a live demonstration from a teacher at a safe distance, whilst the video was streamed to those at home, too.
Our ultimate aim when delivering hybrid teaching is to immerse our children in all aspects of school life, albeit for some, their experience will be solely online.  We have not allowed Covid to interrupt our roles as educators; in fact we have taken the challenges presented as opportunities to reflect and create new ways of working.  We hope you have enjoyed finding out more.