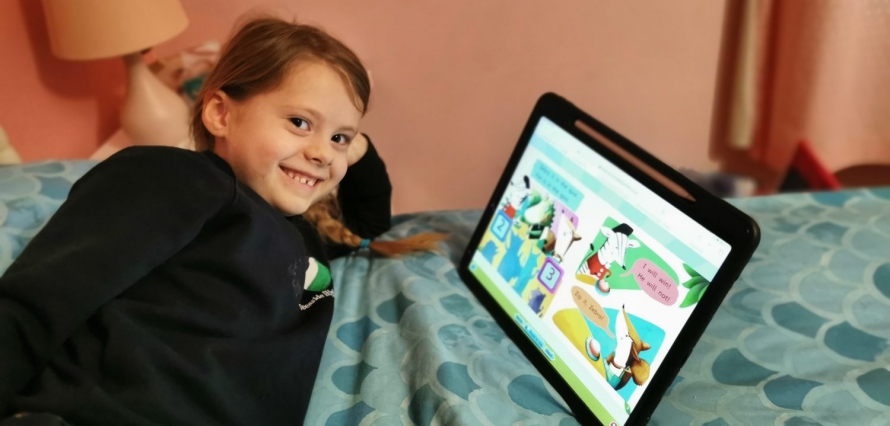 Prep School children catch the reading bug!
Tuesday 02 February 2021 | By Samantha Hockney
Children in the Prep School are thoroughly enjoying our new online reading platform, Bug Club. They have collectively read over 250 books in just three weeks so far!
The importance of reading for children cannot be underestimated. Reading for pleasure can benefit a child's social and cognitive development, their well-being and their mental health. Research shows that children who read regularly have much improved literacy skills, as well as better concentration and an excellent range of vocabulary.
We aim to instil a lifelong love of reading in every child. Through Bug Club, every pupil from Reception to Year 6 has their own personalised online reading library for them to enjoy reading a range of texts.  A particular favourite amongst many of the children has been the play scripts, as well as the huge range of non-fiction books on offer.
Each book is carefully selected by class teachers to ensure it provides stretch and challenge for the children whilst also fostering their love of reading.  Integrated within each text are a series of comprehension questions for the children to answer; staff can then instantly see these and provide online feedback for each child.
The platform has been well received by parents, too.
"Bug Club has allowed my daughter to practice her phonics while at the same time reading fun and engaging books.

"After reading each book, she is awarded points which can be used to purchase pets, furniture and toys for her virtual tree house.

"As always I am extremely happy with Teesside High School and their proactive approach to distance learning."
You can read more about our outstanding distance learning provision here.