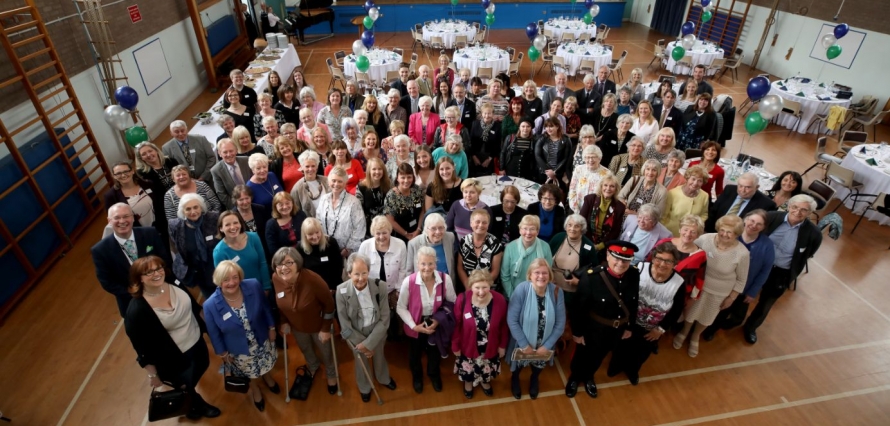 Teesside High School Former Students' Association marks 120th Anniversary
Monday 29 April 2019 | By Samantha Hockney
Members of Teesside High School's Former Students' Association gathered for an anniversary luncheon on Saturday 27 April, marking 120 years since the Association was founded.
Former students and staff and friends and family enjoyed entertainment, a formal lunch, and an opportunity to recall fond memories through a special exhibition held in the school's Sports Hall.
Alumni groups also joined current students on tours of the Teesside High School site, which was once home to the sprawling Woodside Hall.
The Former Students' Association was founded on 24 June 1899 by Miss B L Browne, then Headmistress of Queen Victoria High School for Girls (QVHS). The former QVHS buildings no longer exist, but the site was once located on Yarm Road, Stockton.
Separately, The Cleveland School was a junior school founded in 1938 which moved to Woodside Hall in 1945. QVHS and The Cleveland School merged in 1970 and the present buildings on our Eaglescliffe site began their lives as Teesside High School.
Now fully co-educational, the school is thriving under the leadership of Head, Mrs Kirsty Mackenzie, who joined the group at the luncheon alongside Chair of Governors, Mr Rob Tindle.
Kirsty Mackenzie, Head at Teesside High School, said: "It was an honour to attend the Former Students' Association 120th Anniversary Luncheon and meet so many former students from both Teesside High and our predecessor schools.

"Giving our alumni the chance to catch up with old friends and look around the school and see the many investments and developments that have been made over the last few years is very important to us, and we are so pleased so many came along to enjoy the occasion.

"As a whole school we look forward to celebrating this milestone once again next Saturday, 11 May, when we will host a 120th Anniversary Summer Fair on the banks of the river in our glorious grounds. We look forward to marking our rich history and toasting our bright future at this event with lots of our current families present, too."
Find out more about Teesside High School's history.
Enquire about joining the Former Students' Association.