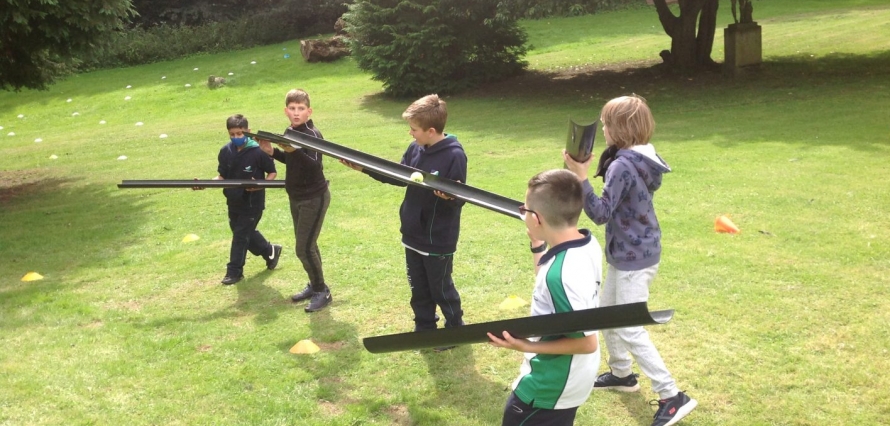 My first two weeks at Teesside High School
Friday 02 October 2020 | By Samantha Hockney
Our new Year 7 pupils are proud to share with you an insight into their first two weeks at Teesside High School.
My first two weeks at THS have been amazing. I have made new friends such as Matthew, Seth and Reuben. Reuben is older than me and he has helped me round the school. My favourite subjects are Classics and Physics. I like Physics as I want to be an RAF pilot. I like these subjects because the teachers are really funny and the subject is interesting as well. I am excited for the years to come because I want to get better at Maths and English. Every teacher is nice and helpful. I want to stay here for Sixth Form and then go to America for university so I will have to work hard. I am happy I came to Teesside High School.
Luca
I am writing this to tell you about my first two weeks here at Teesside High School. I have found the first two weeks of school very fun while we have been learning new topics such as Biology, Chemistry and Physics, indoor hockey and much more. I have enjoyed my time here with my new friends and meeting new teachers. I am really looking forward to the next couple of months here and learning new subjects and new activities.
Isaac
In my first two weeks in the Senior School I have made many friends and have obtained thirty one merits and I will continue to earn more. My favourite lessons are Computing and Drama because they are really fun and we can do things during them. We have already made so many memories during the time in Year 7. I have had many new experiences and I am hoping the next term will be as great as this one. 
James
I have enjoyed my first two weeks at school, everyone in my class is really nice. In my form, Miss Davidson is really helpful, she always lets me and my tutor group know if our timetable has changed, if anything important is happening, or if we need to bring anything in. All of my lessons have been varied, it has taken some getting used to learning the one way system though, especially because it is a whole new school. My favourite subjects so far have been Classics, English, Biology and PE. Although those have been my favourite, all of my teachers have been lovely and I have enjoyed all of my lessons. There are lots of new girls and they are all amazing friends. I was so chuffed in the first week when me and Holly both got 16 merits, the most out of the class!
Ivy
My favourite subjects so far are Biology, PE, Classics, History, PHSE, ICT and Maths. These subjects have stood out to me because the teachers are really friendly and the subject itself has been awesome. My first two weeks have been amazing. I can't wait to spend my future at Teesside High School. 
Matthew
I have enjoyed school lots so far. My favourite lesson has been Biology because the teacher is very nice and the lesson itself is very fun. I also like French, Physics, Chemistry and DT. I've adjusted to the school very well and have met lots of new friends. One of my favourite things about the school is the teachers because they are all so kind. I like doing French because my grandma speaks French so I can teach her whatever I learn. I've made lots of new friends like Oliver, Willoughby, Elliot, Ben and Benedict. In the school I've learnt so much from all the different lessons and from the different teachers; Physics is really fun because it's about forces and in my old school we did lots of Physics!
Finn
Want to find out more about joining Year 7 in September 2021? Register now to attend our Year 7 Open Evening.